Academia : School Simulator
Eventful Days Update is Released! (Build 0.3.97)
---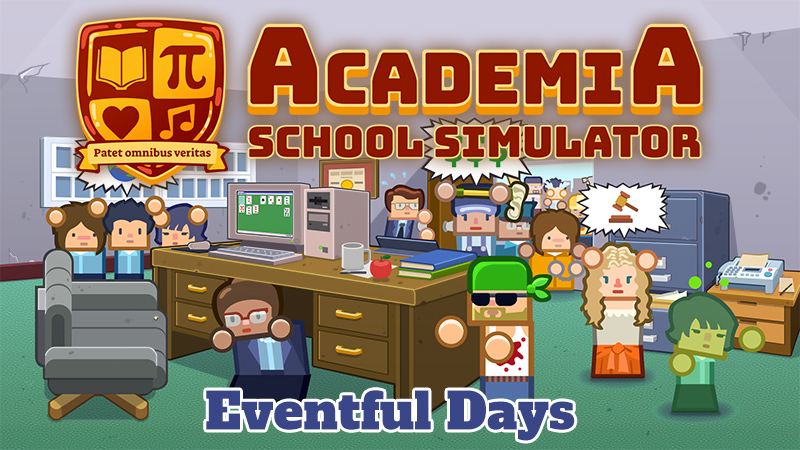 Hello Scholars,
Our latest update is here, called Eventful Days! The biggest difference here is now you will experience random events! Read more below to find out what's in store for you.
Events

Every few days a random event will occur where you will have to make a decision. You can ignore the event at the cost of prestige. You can see a hint of what some of the events will be in the illustration we made, but we don't wanna spoil too much! We hope you guys like the events we've made so far, but feel free to suggest some events that you think might be fun/interesting!

Sell School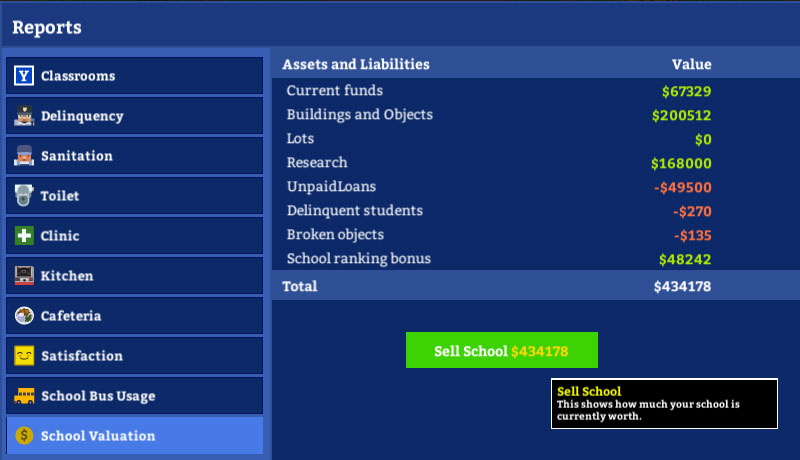 This is a longtime request, you can now sell your school to start over with much more money. The amount of money depends on your school valuation, which you can see in the reports screen. Restarting lets you pick your difficulty, school principal, school logo etc.
Automatically Kick Out Goons



For those that can't be bothered to find the and kick out the goons, we added a research that takes care of it for you!
UI Updates
As we build up to Alpha 4 release in April we are improving the UI bit by bit for a better experience. Some of the stuff we've been doing include: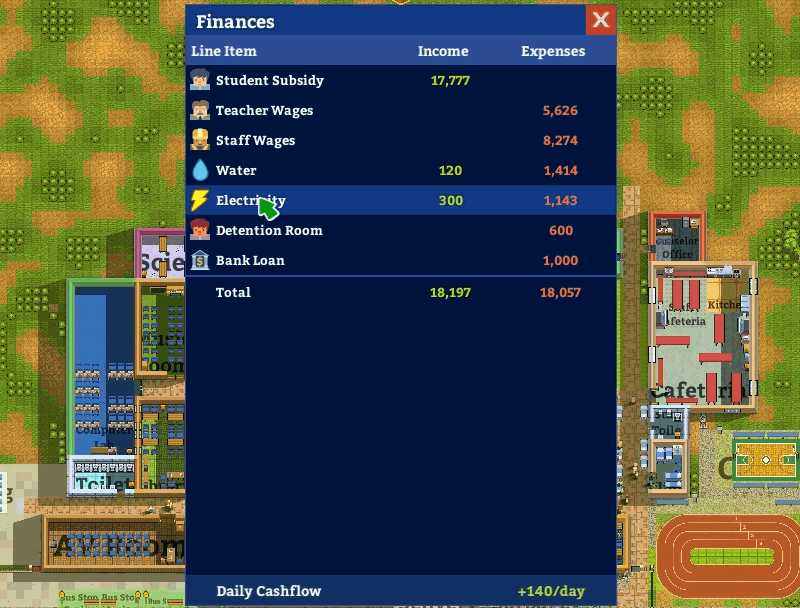 -Updated Cashflow Panel (now shows number of objects, added icons for easier navigation)
-Decluttered settings menu and move some icons to the HUD for easier access
-Update the save and load panels (autosaves now show more useful info)
-Graphics settings in Settings Panel
-Those and a lot more small tweaks have been added to the UI.

Bugs and other Design Update
One major thing we did with this build is that we temporarily removed the "Sell to the Grid" Research. We know some of you have been using it as a "unlimited money" workaround, but that was never the intent. We will be thinking about how we can add it again in a more sensible fashion in the next update.
- Fixed pet labels
- Updated evaluation panel and year end congratulatory panel
- Fixed missing text name for principal
- Implemented food fight
- Updated health, dirt, and food crate variables
- Improved UI
- Improved school timeline graphs
- Fixed staff context panel auto closing
- Fixed wrong locked reports button colors
- Fixed weird behavior of the clinic zone details panel
- Fixed events bugs
- Implemented camera shake for the earthquake event
- Reduced goon visit chance as event cost
- Removed concrete tiles from default map
- Prepare pending event during loading
- Added tooltips for the student population rollover icons
- Improved UI panels (Save/Load panel, User Reports, Top right HUD, Settings, and Custom Logo panels)
- Changed earthquake camera shake duration
- Fixed bug where next day transition happens in game over screen
- Fixed slow/laggy feedback panel opening
- Removed unnecessary divider in save and load panels
- Redesigned mods installation panel at the start of the game
- Fixed bugs in display settings
- Updated object costs
- Fixed load game error due to missing carried object
- Implemented sound effect for earthquake event
- Fixed custom school logo black and white colors seems broken
- Fixed students not going to the school bus at the end of the day
- Fixed worker not fixing toilet cubicle
Files
AcademiaSchoolSimulator-win-64.zip
147 MB
AcademiaSchoolSimulator-osx-universal.zip
145 MB
Get Academia : School Simulator